A Website for Star Wars and Comic Book Artist Jan Duursema
Star Wars Celebration 4 (2007)

Doug and Chip Visit Store for Star War: Republic #83




Chicagoland Expo 2005

Here are some pics--I wasn't able to attend, but Doug Wangler was there with the Quin armor on an awesome armor tree he made and some cool posters for his booth courtesy of Dark Horse and myself. Doug, Ray Park, Mary Oyaya, Orli Shoshan, Cynthia Cummens and Daniel Logan look like they were having fun! And I hear that everybody had an amazing time!









Star Wars Celebration 3 (2005)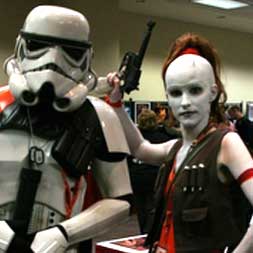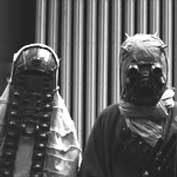 Happy Holidays 2004
Merry Christmas from "Santa Vos"




Mid-Ohio-Con 2004

Mid-Ohio-Con was a blast as always! Got to sit in at Justin's World Famous Comics booth with good friends Joe Corroney and Justin himself. Justin even let me wear his awesome Darth Maul boots at the con on Sunday. He keeps promising me that someday these will be mine...but for now, I will always have MOC to remember them by... Tom Mandrake and our kids Jack and Sian were in attendance as well--Tom was off in Artist's Alley drawing at mach 5, while Jack made 'friends' with various alien life forms. It was great to see all the fantastic costumes at the con. Jack and I chased down Darth Maul and the Predator just to get some pics. Doc Octopus and the Green Goblin were super, as were Storm and Wolverine. I also had a great time working late into the night on a replica of Quinlan Vos' leather armor with friends Doug Wangler and Chip Childress (with sage advice from Justin.) With a lot of hard work we got the initial fitting for the armor done. Joe and Justin (and Chip and Doug) can tell you that I was sweating making those first cuts in the leather after it was all measured. After we cut the vest to fit Doug, we soaked the leather in the shower. At that point, skepticism hung heavy in the air--we were wondering if we were actually going to be building armor, or if we were just going to end up with a hunk of soaking-wet cowhide. As the man at Tandy Leather had promised, the leather took the form and when it dried, it was pretty much looing like a Jedi version of the armor that the Troopers in the 501st wear (we checked out Chip's 501st gear as comparison.) I've still got to cut and attach a lot of pieces to the vest and I'm hoping to post some photos as it comes along. In the meantime, I hope you enjoy these pics from the show!



Joe Corroney, Justin, Tony Isabella, Tom Mandrake, Bill Baker...









Scenes from around the show









Doug and Quin's leather armor







Someday, these Maul boots will be mine!


---
© 2002 - 2023 Jan Duursema, PO box 271, Mt. Freedom, NJ 07970
All other © & ™ belong to their respective owners.